fish spa treatment in Hungary. Fischtherapiebehandlung in Ungarn
to relieve the symptoms of patients with psoriasis.Milderung der Beschwerden der Patienten.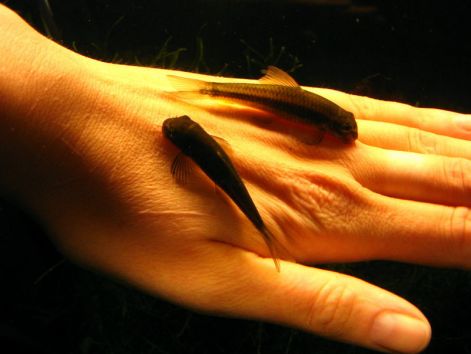 To relieve the symptoms of patients with psoriasis

We are the first to use fish spa treatment in Hungary, which has been available in numerous countries in Europe for a good time.

The bath is primarily to relieve the symptoms of patients with psoriasis, but it has also been successfully used in the cases of eczema and acne as well. Apart from its curative use it is also favoured and used for its stress-relief effect, and it is also useful in the struggle against cellulitis.

The use of fish baths is also known of in the field of Wellness services. The fish themselves (garra rufa) are freshwater fish belonging to the carp family, they grow to a maximum size of 12 cm. They have no teeth, the use their mouths to rub off the plaque softened in the warm water from the patient's body. They clean the skin thoroughly, accelerate blood circulation, sooth out muscle knots and help to reduce stress.

This natural "fish eraser" frees the skin of dead skin cells, it thins the thick skin built up on the elbows and feet, it helps in the treatment of cellulitis, it massages and tightens the skin. The duration of the fish spa is 14-18 days; every day you need to spend 1-1.5 hours in the company of 200-220 doctor fish in an especially developed spa bath, which is followed by a short UVB light bath.

A warm shower is recommended before the fish spa, then after the light bath the body is treated with a special ointment. The aim of the fish spa is to significantly improve the skin overall and to relieve the condition of the guest until all symptoms disappear completely for months at a time.

In the light of previous experience fish spa MAY BRING ABOUT A SYMPTOM-FREE PERIOD LASTING FOR SEVERAL MONTHS IN THE CASE OF THE FOLLOWING CONDITIONS AND SYMPTOMS: psoriasis, eczema, acne, cellulitis, stress.

When the fish bath IS NOT RECOMMENDED: chemotherapy, cortisone therapy, alcohol dependence/ under the influence of alcohol, extensive varicose veins, high blood pressure, incontinence, fevers, bleeding wounds, autoimmune illnesses. During the fish spa you should refrain from smoking, the use of strong spices and fragrances, and steroid creams.

Information:

info@kangalfishspa.com

Phone:0036-30-397-2363,

0036-20-967-4031, Fax:00361-700-1757 Prices :990 € /pax

14-18 days (incl. appointment with a dermatologist)
* Accommodation :3 star Hotel incl. halfboard/ single room (Hotel Erzsebetkiralyne Gödöllő Dózsa Gy.út.2. www.ekhotel.hu)

* 14 -18 x 1-1.5 hours fish spa )

* light therapy(UVB Light)

* special skin care products
Oldal: English
fish spa treatment in Hungary. Fischtherapiebehandlung in Ungarn - © 2008 - 2020 - kangalspa.hupont.hu
A weblap a HuPont.hu weblapszerkesztő használatával született. Tessék, itt egy weblapszerkesztő.
A HuPont.hu ingyen honlap látogatók száma jelen pillanatban: